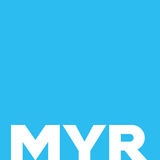 Customer Success Specialist
MYR POS
Montréal, QC
13 days ago
Job description
MYR is the first omnichannel POS system for fast-casual restaurateurs. Our young and vibrant team is constantly on the lookout for the latest in the service industry. Proactive, we are always ready to create new features as long as they are well made. Together, we are developing state-of-the-art features to accompany all cafés and quick-service restaurants on a daily basis.
This position calls for a Full-Time Customer Success Specialist. We need someone to help customers get on board. You are interested in facing new challenges in the Technology sector. You are looking for a place that you can believe in and have fun doing it too.
The Job:
· Train customers on how to use our iPad POS via Google Hangouts
· Answer technology support calls related to our restaurant POS
Our company has a minimal number of support calls throughout the week. Calls on the weekends, if any, would be shared with other team members.
· Help coordinate installations with our partners
· Help improve our systems, through documentation, research, and feedback
· Handle all other duties and responsibilities as defined by management
Requirements:
· Has a great understanding of technology (hardware & software)
· Excellent communication skills both written and oral (English and French)
· Strong customer service, people, time-management and organizational skills
· Personable and customer-centric
· Willing to learn and grow technical knowledge
· Has graduated from CEGEP or equivalent as a minimum
· 2 years working within a team, with customers and suppliers
Compensation:
· Experience with a fast-growing tech start-up in Montreal
· Great opportunity to grow within the team
Experience:
· Customer Support: 2 years (Preferred)
Location:
· Montréal, QC (Required)
Language:
· English (Required)
· French (Required)