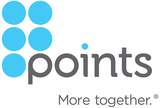 Director, Software Engineering (Data)
Points is looking for a Director of Software Engineering to join our engineering team for a permanent position.
In this newly created role, we're looking for an engineering leader to own the data at the core of Points products. If you love working in an open, highly collaborative environment making awesome software, then Points is the place for you.
Reporting to the VP of Engineering, the Director will be responsible for:
Strategic responsibility for advancement/adaptation in face of change. Exert judgement, take risks, adjust plans fluidly as required to achieve impact and deliver results.
Responsible for recruitment, retention, succession planning, career development of the data team
You will own the core of Points data and how we use it. You'll be leading the charge on new developments, along with the never ending challenge of optimizing and modernizing how we move, store and use data.
Ensure alignment and commitment to the team's missions and goal
Continuously improve/grow team's area of impact in support of strategic goals through innovation
Inspire team by advancing reputation of the team within Points and within the industry
Ensure the teams collaborate and work well with other teams at points.
Part of the role is to initiate and drive initiative that are beyond the span on the teams' day to day development work. Coming up with ideas, work with the teams to build a plan and execute to completion projects that take long months.


Qualifications
Exceptional verbal and written communication
Track record of strong leadership leading multiple teams
Solid technical background with handling data, building and scaling web services