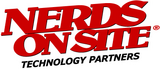 IT Tech & Consultant (On Site & Remote)
Nerds On Site
Canada (ASAP for GTA/Vancouver/Kelowna)
12 days ago
We call ourselves EntrepreNERDs®! We're a loyal team of globally recognized technology partners and dependable one-stop-shop IT support.
We pride ourselves on IT expertise and top-notch customer service. As an eNerd you have the freedom to run your own business, all while leveraging the power and support of a globally recognized brand and team.
Current demand from existing and new clients requires more eNerds in:
GTA
Vancouver
Kelowna
Kitchener/Waterloo/Cambridge
Applicants from across Canada welcome!