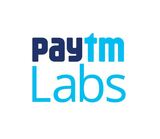 Software Engineer (Remote - North America)
Paytm Labs
Toronto, ON
24 days ago
About Paytm Labs:
At Paytm Labs, we're on a mission to provide useful technological solutions that enrich and empower millions of people in their daily lives. We apply big data, artificial intelligence and machine learning to bring the next generation of financial products and services to the Indian, Japanese and Canadian markets.
As a company, we're committed to offering the most transparent, secure, and personalized consumer experience to over 500 million users and over 20 million merchants. Since our journey began 6 years ago, we've launched the Paytm Canada app (our bill management app), and PayPay (a QR-based payment app in Japan), all while powering the Paytm India app.
Job Description:
Paytm Labs is looking for a Software Engineer to work on our global payments system which needs high scalability, reliability and availability. These challenges require lots of creative thinking based upon a very deep understanding of how software works.
Our ideal candidate is an ace problem solver and a learner at heart. You should have a very high degree of comfort in a programming language of your choice. We offer a flexible work schedule and you get your choice of tools (both hardware and software) and most importantly, the opportunity to work on tough problems with the brightest minds around you.
Responsibilities:
Design, develop, test, deploy, maintain and improve software
Build back-end systems supporting the growth market, fraud prevention, advertisement, lending and etc.
Understand concurrency, distributed computing, messaging and algorithm, and know the trade-offs between frequent delivery and technologies
Develop tools and contribute to open source wherever possible
Adopt problem solving as a way of life – always go to root cause!
Qualifications:
Strong fundamentals in data structure, algorithm and object oriented programming
Software development experience in one or more general purpose programming languages
Interest and ability to learn other coding languages as needed
Degree in Computer Engineering or Computer Science or 3+ years equivalent experience in SaaS platform development
Preferred Qualifications:
Experience with one or more general purpose programming languages including but not limited to: Java, Scala or Go.
Implement platform components such as RESTful APIs, Pub/Sub Systems, Database Clients
NoSQL experience
Experience with AWS services
Contribute to open source projects
What we Offer!
Due to the pandemic, we have been and will continue to WFH until it is safe to open our office. Our company culture and values remain at the core of everything we do.
For the third year in a row, we are proud to announce that we have been certified as a Great Place to Work
We were also certified as one of the Best Workplaces for Mental Wellness in 2020
We are an open work environment that fosters collaboration, ownership, creativity, and urgency
We ensure flexible hours outside of our core working hours
Enrolment in the Group Health Benefits plan right from day 1, no waiting period
To keep things fun and stress-free during COVID-19 we started Virtual Daily, Virtual Weekly and Monthly team bonding activities including: Trivia, Games Nights, Movies Nights, Arts & Crafts (e.g. Origami), Lunch & Learns (e.g. Sign Language 101), Virtual Wellness Sessions (e.g. Meditation, Morning stretches), Virtual Team Ubereats Lunches, and so much more
When we are able to open our office, our in-office experience consists of:
Team building events (anything from axe throwing, go-karting, bike riding, etc.)
Fuel for the day: Weekly delivery of groceries, and all types of snacks
Catered lunches and desserts on a monthly basis
Flexibility with WFH
Daily fun in the office with our competitive games of Ping Pong, Pool, Smash Bros competitions, or FIFA
And of course, an unlimited amount of freshly made coffee! We're pretty serious about our coffee beans
Notice for Job Applicants
Following the advice of Canadian health authorities, to mitigate the risk of the potential spread of COVID-19 and support social distancing, all recruiting activities including interviews and new hire onboarding will be conducted remotely. While we are doing our best to ensure reasonable response times, please expect potential delays during the recruiting process due to the current situation.
We are an equal opportunity employer and value diversity and uniqueness at our company. We thank all applicants, however, only those selected for an interview will be contacted.
Paytm Labs is committed to meeting the accessibility needs of all individuals in accordance with the Accessibility for Ontarians with Disabilities Act (AODA) and the Ontario Human Rights Code (OHRC). Should you require accommodations during the recruitment and selection process, please let us know.
Don't have Paytm Canada App yet?
Check us out in the Google Play or App Store.